Panel 2
---
---
---
[click on image for full screen version]







The North Portal as seen (above) September 1995. Work had not yet begun on the upper tier of stones. The photograph (below), taken August 1997, shows the finished statues.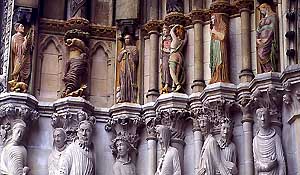 The Biblical figures include:
North Portal Lower

Melchizedek
Abraham/Sarah/Isaac
Jacob
Moses
Elijah/Elishah
Samuel

North Portal Upper

Noah
Ishmael/Hagar
Rachel
Miriam/Aaron
Deborah
Hannah
Panel 2
The 32 carved Biblical figures seen on the 8-foot and 3-foot stones represent kings, prophets, judges, farmers, musicians, parents, children, rich and poor. The figures face each other in the semi-circle of the doorway: Deborah lifts her veil to call out her warnings; Abraham stands next to Sarah, with his hand placed over her pregnant belly; John the Baptist is draped in animal skins; Noah holds an unfinished ark, looking backward at the unfinished cathedral.
The bases and capitals surrounding the larger figures feature numerous topical, witty, yet timeless, symbols: a vision of the west front of the unfinished St. John the Divine; a pianist's hands; a DNA spiral; personal messages from the artists.
back
forward
PHOTOARTS